Intro
AsianDating is one of the web's largest online dating platforms for meeting and dating Asian women from all around the world.
If your interested in dating Asian women, then you've no doubt come across this name at some point in time.
Like their sister website VietnamCupid, AsianDating is also operates under the Cupid Media network that specializes in niche dating websites catered towards foreigners.
On AsianDating, you can expect to find lots of cute Asian girls from all corners of the globe that are interested in dating foreigners.
In this AsianDating review, I'm going to be exploring all aspects of this website and whether or not you should consider it as a serious dating option to add to your repertoire of tools for meeting Asian girls, especially Vietnamese girls.
Membership Levels
AsianDating offers 3 membership levels:
Standard:
The most basic membership level
Can view profiles of girls
Cannot communicate with non-paying members (basically 99% of the girls on there)
Can fill out your profile
Can search for girls
Girls can search for you
Gold:
Everything included in a standard membership
Can message and read messages from non-paying members
Ads have been removed
Platinum:
Everything included in a standard and gold membership
Given preference in exposure and rankings (very important!!!)
More search features
Better matching algorithm
Can translate messages
Pricing
These are the prices as of August 7, 2019.
Prices will be listed in your local currency.
Please let me know if they change.
Signing Up For a Membership
Signing up for a membership is incredibly easy and straight forward.
You can start off with a free membership and scoop out the quality and see whether or not its for you. If you like what you see, then you can signup for a paid membership.
If not, then no biggie.
There is also a AsianDating app in the google play store and iTunes store that you can use for your mobile phone.
User Interface
If you've ever used any of the Cupid Media dating websites before such as VietnamCupid, then you'll quickly become accustomized to the user interface because it's exactly the same.
The user interface is quite user-friendly and nearly everything is labeled for you.
At the top of the screen is your navigation bar that consists of the number of members online (denoted as a number), your matches, search, messages, and activity.
Search Screen
On this section of the website, you can set parameters for the type of girl that you would like find on the website.
The search function is pretty detailed and you can search for anything ranging from age, height, country, language skills, income, and even eye color!
AsianDating basically allows you to search for the type of girl that your most attracted to down to the minicule details. You probably won't find anything remotely close to this on any other dating website out there.
Activities Tab
On the activities tab, you can see all the girls that have shown you interest, viewed your profile, and even saved your profile as a favorite.
These are the girls that are most ripe for getting out on dates on here.
In addition, it also keeps tabs on your activity history as well.
This is great for when you forget to favorite or show interest in a girl that you liked. You can just hop on back here and voila, all of your activity history is here.
Members Online
On this screen you will be shown all of the members that are currently online, or recently online.
Its one of the first places you should go when looking for a girl to chat with, as your chances of getting a response rate is much higher here.
This screen will look very similar to the matches screen where all of the girls photos will be on display.
Messages
This is where all the action takes place and you can communicate with girls here.
All of your messages are located on this screen. It's pretty self-explanatory.
See a girl that you find cute, then respond back to her and try to get her out on a date.
Do keep in mind that messages longer than 2 months will be deleted by AsianDating, so make sure you grab their digits before your message history with them is gone.
Your Profile
On the far right corner of the navigation menu, you will find options to edit your profile.
These include:
Editing your profile
Adding in photos
Entering in match criteria parameters
Adding in your hobbies and interests
Answering personality questions
Adding in tags to make it easier to search for you
Verifying whether or not your account is authentic
Editing Your Profile
On this screen, you can enter in all of your attributes.
These include everything from:
Your name
Gender
Height
Ethnicity
Nationality
Salary
Weight
Body type
Job
Date of Birth
City of residence
Photos
This is where you can show the girls on AsianDating how handsome you are.
You have the option of either uploading photos directly from your computer or connecting to your facebook and using your facebook photos on AsianDating.
There are also photo guidelines that you should follow such as having clear shots of your face and not containing any nudity.
The photos also must be you and not someone else.
When taking photos remember to take them in a well lit place and not a dark alleyway that makes you look like jack the ripper.
Edit Match Criteria
Over here, you can define what sort of things that you are looking for in a girl.
You can able to define such things as:
Age
Height
Country of residence
Weight
Body type
Ethnicity
Whether they have been married before and have kids
English levels
Income level
Lifestyle habits
Hobbies and Interests
On this screen, you can select all of your hobbies and interests to let the girls that read your profile know a bit more about you.
The list of options is quite extensive and there should be something for everyone here.
Personality Questions
On this page, you can answer a series of personality questions that will help give you a better match with girls that share similar outlooks and interests as you.
It's not necessary to answer these questions. I personally don't answer them and just straight up message girls that I like.
But it may help some of you that are looking for a better match.
Verify Questions Screen
On this screen, you have the opportunity to verify your identity by uploading your ID cards.
By doing this, the site awards you an authenticated badge that proves your identity. This makes your profile much more trustworthy when contacting girls that are wary about men trying to trick them.
I personally did not do this, because I don't want private companies having a hold of my personal information.
I also found that it didn't make much of a difference with most girls on the site.
I only experienced one case of a girl demanding that I show her my location using a gps tracker immediately upon talking with her.
But I attribute that to her being nuts more than anything.
Upload an ID card if you feel that it will improve your chances of getting a date, but it's really not that necessary if your sensitive about sharing this data online.
Cupid Tags
Over here you can add in tags to your profile. This makes it easier for girls to search for you when they type in a certain keyword.
For example: sushi
On the right side, you can manage your cupidtags, by either editing or removing them. This step is also not necessary but if you want to improve your chances, it doesn't hurt either.
I personally don't spend a lot of time entering cupid tags.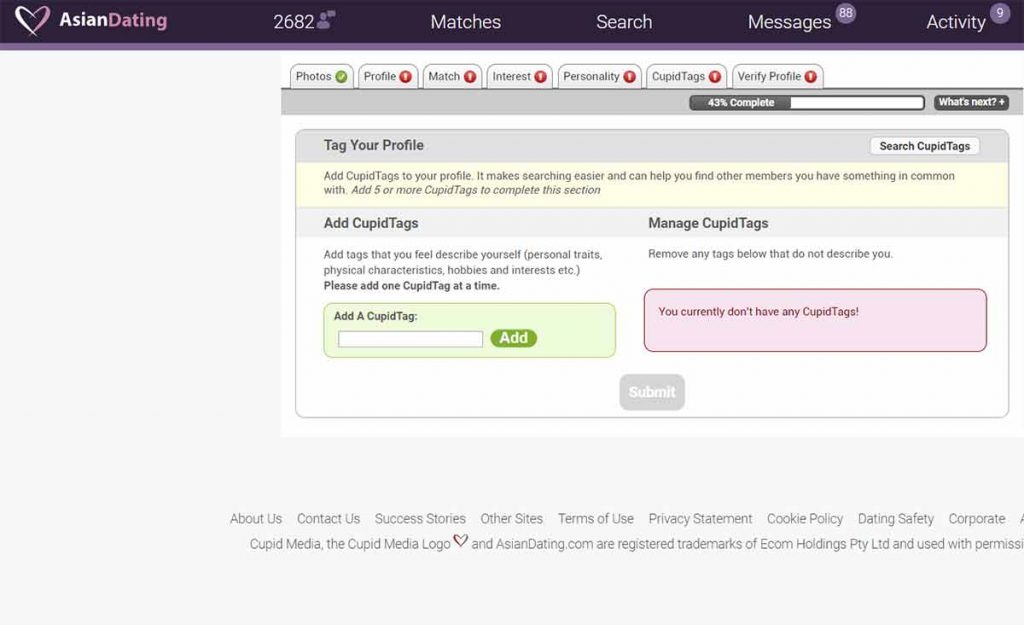 How to Contact a Girl
To contact any girl that you like, simply click on the message icon at the top of the profile beside the heart icon.
You will then see a popup box appear where you can start chatting with the girl. You can also access your messages through the messages tab.
Quality of Girls
On AsianDating, you will find girls from all corners of life.
Sweet and innocent university girls
Down to earth girl next door types
Sultry and seductive newly grads
Wild and alluring party girls
Independent and aspiring career women
Beautiful and sexy model and promotion girls
gorgeous and passionate single moms
Here's some examples of the types of girls you could meet on AsianDating
Not bad right?
You will find plenty of cute girls on AsianDating and even a few hotties too!
Competition From Guys
What competition?
Most guys on there haven't a clue how to attract women.
Luckily for you, you found this website and will rise above these mere mortals and become an attractive male that girls from all over the world will want to date.
Most of the profiles that you will come across on the website, will feature a combination of:
Cringe worthy photos enough to give someone a nightmare
Boring bland profile descriptions that put people to sleep
You will typically see some generic text like this under their description from 20 different guys:
"I'm a normal guy. I enjoy cooking, watching tv, and playing video games. Occasionally I also collect action figures."
Under the seeking section, it will usually read:
"Looking to meet someone special."
Does this sound like someone that is fun, exciting, and attractive to women?
It basically says in womenese "Hi, I'm a boring guy and I don't understand women. The last time I went out on a date was back in the prehistoric times."
This along with poorly taken photos pretty much puts them at the back of the line in terms of securing dates.
These are some photos of guys that look similar to the types of photos guys use on AsianDating.
The guys then put the final nail in the coffin by sending the girls boring, dull generic ice breaker texts, followed by more ass kissing messages telling her how beautiful or pretty she is.
Its incredibly easy to standout from these guys on AsianDating that its almost unfair.
It's like taking candy from a baby.
Disclaimer: As an affiliate, I'm not allowed to use member photos, therefore I can only show you photos of guys outside of AsianDating with similar photos as what you would find on the website.
Pros
Quality is decent to high on AsianDating
Girls don't play around and are serious about dating
Competition from males is a joke
Tonnes of girls will message you first
Extremely easy to get numbers and dates
Easy to use interface
Less scammers on here and can find verified profiles
Cons
Need to purchase a premium membership in order to communicate with girls
Not nearly as many Vietnamese girls on it as compared to VietnamCupid
My Results
Upon joining AsianDating, my inbox immediately got flooded with messages from girls, mainly in the Philippines, Indonesia, Vietnam, Cambodia, Thailand, and a few from China, Hong Kong, Singapore, and Mongolia.
Essentially most of my messages came from Southeast Asian girls.
I had a similar experience on VietnamCupid when trying to get dates from girls on there. My inbox soon got flooded upon joining the website.
Getting dates was relatively easy, especially in southeast Asian countries such as the Philippines, Thailand, and Vietnam.
You could really tell that the girls were serious about dating, and not playing childish games unlike those time wasters you find on the free websites.
Those girls on the other hand, either don't reply or give you one word answers.
Rather then spend weeks and even months having to talk with some random girl online, I was able to get them out on dates within a matter of 1-3 days after initial contact.
Should You Get It?
Are you sick and tired of having to always chase girls only to end up empty handed?
Do the games that girls play really get under your skin?
Well then, look no further because AsianDating will completely change your perspective when it comes to dating.
On here, you will get hammered non-stop by girls from the Philippines, Indonesia, Thailand, Cambodia, Vietnam.
I couldn't believe it myself the first time it happened.
Are all of these cute and attractive girls actually chasing after me for a change? I thought.
It felt great!
Soon, I couldn't even keep up with all of the girls trying to go out on a date with me or sending me daily messages.
The greatest thing you can experience when it comes to dating is abundance.
And on AsianDating you will most certainly experience an abundance of dating options like you've never experienced before.
If you love Asian girls, you will no doubt fall in love with this site!
You will find all sorts of Asian girls all conveniently located on one dating website.
If you love sweet and sensual Filipinas, no problem. There's more than plenty to go around on here.
How about those mysterious and exotic Indonesian girls you always hear about? Most of them are all eager and waiting to hear from you.
Chasing after girls doesn't even exist on this website, unless your going after the hottest girls that live in each country.
But even then, your chances of dating one are exponentially higher on AsianDating.
One thing I do need to mention though is this:
Since AsianDating doesn't allow you to message non-paying members on here, its pretty much useless if you only have a standard membership.
If your not willing to invest in a paid membership then forget it about.
Go stick with some of the other free options out there. But keep in mind, every guy on all corners of the globe are using those free websites.
Your gonna face some serious competition on those sites and be working overtime.
If on the other hand, your willing to invest in a paid membership, then the world is your oyster with AsianDating.
Whether you live in Asia or your stuck back home, you can find scores of pretty Asian girls anywhere in your world, including your own backyard!
Conclusion
AsianDating remains one of the web's best places for meeting cute Asian girls from all over the world.
The membership price that you pay for more than pays for itself once you realize the amount of dates that you can get on it.
In fact, you may quickly realize that its nearly impossible to meet all of these girls on dates, as you will have way too many to handle.
If you've even been deprived of the caring and loving relationship that you've always dreamed about having or maybe you just can't get enough of Asian girls, well then you owe it yourself to get a membership on here and change your love life.
If your ready to start meeting sweet and beautiful Asian girls, then signup for a membership by clicking here.
If your interested in dating mainly Vietnamese girls, then I would recommend that you signup with VietnamCupid instead.
It's main membership base are all mostly Vietnamese girls. Click here to signup for a membership.
You may also read my review about VietnamCupid here.
I hope this AsianDating review has been of some help to you guys.