Intro
The bustling city of Ho Chi Minh City (Saigon) is home to one of the best nightlife scenes here in Vietnam. You won't find a better place to party it out and meet hot beautiful Vietnamese girls then in Ho Chi Minh City.
None of the cities here in Vietnam even come close to the nightlife scene here in Saigon. You will find tonnes of bars, clubs, and even sky bars that are full of energy and ready to light the night up with beautiful displays of lights, and ear-deafening music.
In today's article, I'm going to be sharing with you some of the best nightlife spots here in the city where you will find drop dead gorgeous Vietnamese women ready to party and potentially be up for meeting a foreigner.
The best Ho Chi Minh City nightlife spots are:
Clubs

Envy
Republic Club
The Yolo Lounge
Xing Xing
Kasho Club

Sky Bars

Glow Sky Bar
Chill Sky Bar
Above Sky Bar
Saigon Saigon Rooftop Bar
SKYXX – Garden & Lounge

Bars

Blanchy's Lounge
Lush
Carmen Bar
Qui Cuisine Mixology
Clubs
Clubs in Vietnam usually are home to some of the hottest women that you find here, however expect to spend a tonne of money on tables and bottle service, because there's virtually no dance floors here.
Gaming these girls won't be easy.
Its all social circle, unless you want to pay money for hostesses to sit and drink with you, all the while pretending to be attracted to anything other than your wallet.
You'll also be lucky to walk away from the clubs with your eardrums intact.
Envy
If your looking for the top spot to party, then look no further. Envy reigns supreme at the top with stellar nightly performances with famous DJ's and singers, beautiful Vietnamese girls, and of course snobby and difficult managers, and bouncers.
Prepare to spend a fortune here though, as a bottle with a standing table will cost you 4 million at least!
There's not much of a dance floor here unfortunately as tables fill up the area to make the club some extra dough.
However, you will find some of the hottest girls in all of the city hanging out here, usually with their rich Vietnamese boyfriends.
Trying to woo them won't be easy, unless you can break into their social circle somehow.
There's also not too many foreigners here, unless you count the special DJ's and singers they get.
Be aware there are entrance fees (400k vnd) here to get in.
If you want to rain down money and show off then come here.
Otherwise If your not looking to spend spend spend, then be prepared to be treated like a second class citizen.
Address: 74-76 Nam Kỳ Khởi Nghĩa, Phường Nguyễn Thái Bình, Quận 1, Hồ Chí Minh 11111, Vietnam
Republic Club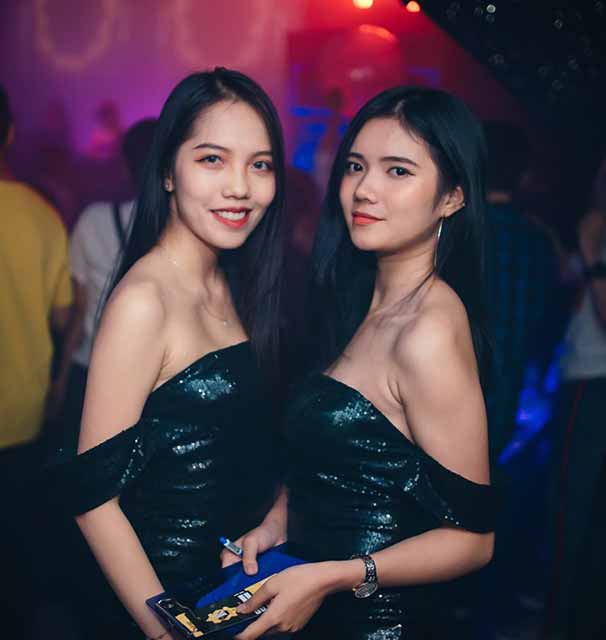 Here's a another popular night club located in the heart of the backpacker district (Pham Ngu Lao) in district 1.
There's a mix of both locals and foreigners here.
The girl's aren't as hot as the one's at envy, however they are a little more laid back here and less snobbish. You will find a combination of younger girls (most likely students), backpackers, expats, and some working girls.
There is an entrance fee unless you purchase a drink at the bar in front. Inside, you will find a lot of tables and not much of a dance floor neither.
Prices are slightly cheaper than envy, but then again it's not envy and its located in Pham Ngu Lao.
Address: 19 Đỗ Quang Đẩu, Phường Phạm Ngũ Lão, Quận 1, Hồ Chí Minh, Vietnam
The Yolo Lounge
This upscale chic club caters to mostly rich Vietnamese and celebrities however you will find some foreigners here like Koreans and westerners.
The club doesn't have much of a dance floor, however a lot of the tables are quite close together, making it easier to try and talk with a girl on an opposite table.
There's usually a live performance everyday of the week here.
Like most high-end clubs, the club promoters and managers can set you up with hostess girls that will keep you entertained and drink with you for a fee.
You don't need to pay to book a table, however you are required to get at least one bottle here.
The talent here is very high as well.
Address: 26 Lê Văn Hưu, Bến Nghé, Quận 1, Hồ Chí Minh, Vietnam
Xing Xing
This is another highend club with lots of Gorgeous Vietnamese girls around, usually in their cliche social circles surrounded by rich Vietnamese guys.
There's a lot of celebrities and Vietnamese singers at this club as well, performing on stage.
The decor and lightshow is a bit over the top, and prices don't come cheap.
You will most likely need to dress up a bit for these highend clubs.
There's not a lot of foreigners here as the club caters to the rich elite.
Expect lots of tables and not make a dance floor.
Are we seeing a pattern here?
Be careful of getting charged on things you didn't order though.
Address: 180 Nguyễn Thị Minh Khai, Phường 6, Quận 3, Hồ Chí Minh 700000, Vietnam
Kasho Club
Here's another club with a Japanese theme that caters to the rich and elite. There are practically no foreigners here unless they are coming with some local Vietnamese.
You will find lots of beautiful Vietnamese women however, they are once again with their rich Vietnamese boyfriends or social circles.
The ones that are sitting or standing around are usually hostess girls that will come and drink with you for a price of course.
Customer service here however is a bit lacking and people have been known to get overcharged.
If your deciding to come here, make sure to pre-book a table before coming otherwise expect to wait for a while.
Adress: 99 Nguyễn Thị Minh Khai, Phường Phạm Ngũ Lão, Quận 1, Hồ Chí Minh 700000, Vietnam
Sky Bars
Next up we have the skybars. Skybars are 1 level down in terms of difficulty due to less social stigma of socializing with outsiders and also the layout of the skybars.
The girls tend to not be as hot as the ones that you would find in the high end clubs, however courting them will be much easier.
However, expect to find some working girls who have decided to make these places their hunting ground.
The prices are a little cheaper here too as you won't be required to get a table or bottle service always unlike the clubs.
Glow Sky bar
At Glow, you'll find a combination of locals, tourists, and expats. The girls usually come from a middle class or upper middle class background (think business woman or manager at some company).
The girls here are much easier to pickup compared to the clubs, however the quality isn't as high.
The design of the skybar also makes it easier to socialize with people, especially if you camp out around the round bar area. That area gets quite a lot of traffic.
There are of course some working girls stationed here so watch out.
Drinks will run you anywhere from 140k vnd to 400k vnd by the glass, and bottles a few million. Still cheaper than what you would have spent at a club though.
They also have happy hours at Glow (usually from 5-8pm).
The music is decent and the view is nice.
Address: 93 Nguyễn Du, Bến Nghé, Quận 1, Hồ Chí Minh, Vietnam
Chill Sky bar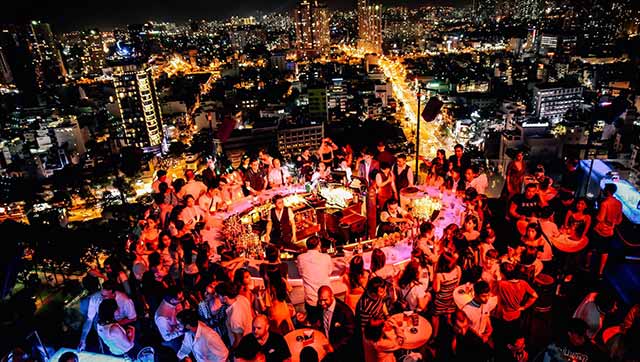 Chill like its cousin Glow Skybar, is one of the few skybars here in Ho Chi Minh City offering a breath taking view of the city, all the while being surrounded by cute Vietnamese girls.
Chill skybar does charge for cover depending on when you show up, and they have been known to enforce a dress code. Just don't go looking like a slob ok?
They also offer a happy hour, however prices are still expensive despite the happy hour discount. A beer will set you back at least 100k vnd, ouch!
This sky bar tends to attract expats that like to burn money, locals, and tourists. Expect similar quality as the other skybars.
Once in a while the skybar has Vietnamese singers stop by for an over the top show for the customers. Its usually packed on those days.
There are some working girls here as well.
Address: AB Tower, Tầng 26, 76A Lê Lai, Phường Bến Thành, Quận 1, Hồ Chí Minh, Vietnam
Above Sky Bar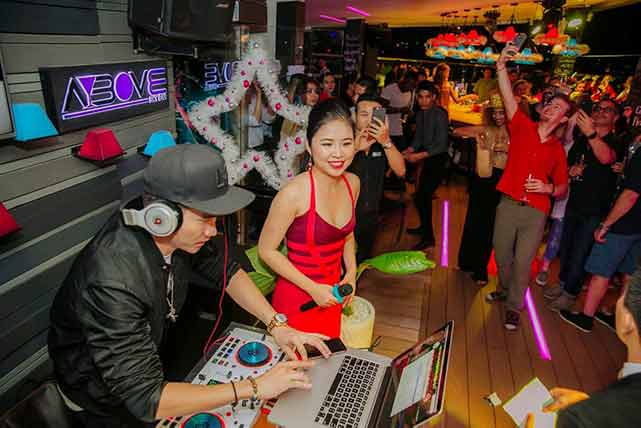 This sky bar is centrally located and has a great view of the city. There's no entry fee and no dress code, which means you will see a lot of poorly dressed folks around (think shorts and flip flops).
The clientele here usually is a mix of local, tourists, and expats. In fact there's quite a bit of foreigners that come here to party.
Prices for drinks are a bit cheaper than Chill Sky bar, however the talent isn't nearly as high there.
This skybar features a swimming pool area which you can access for 300k vnd.
Address: 59 Pasteur, Bến Nghé, Quận 1, Hồ Chí Minh, Vietnam
Saigon Saigon Rooftop Bar
This rooftop bar is located on top of the Caravelle Saigon hotel.
This bar caters mostly to expats and tourists. You won't find too many locals that come here. So if your looking to meet some foreigners then head on down here.
The crowd is also more on the older side, think 30+.
There's a happy hour from 4-7pm and there's even a live band indoors. Drink prices are pretty reasonable considering that its a sky bar.
Address: 19 Công Trường Lam Sơn, Bến Nghé, Quận 1, Hồ Chí Minh, Vietnam
SKYXX – Garden & Lounge
This is another high end skybar centrally located in the city on top of the Deutsches Haus Ho Chi Minh City building.
The talent here is pretty good, and is a mix of local Vietnamese girls and some foreign expats.
Unfortunately word got out and now a lot of thirsty foreign men frequent the joint, thus making it more difficult to game for everyone.
A lot of high society Vietnamese folks like to come here to party, which means sky high prices on everything.
The typical age range tends to be 25+ here.
The performances here are top notch and they usually have famous celebrities and singers stop by.
The view at the top is also very nice here.
Address: Deutsches Haus Building, 33 Lê Duẩn 20th floor, Vietnam
Bars
The bars in the Ho Chi Minh City nightlife, are more conducive towards picking up girls, due to the lower music levels, the layout of the bars, and the decreased social stigma of socializing with strangers. Expect to save a little money too as you won't need to book a table nor get a bottle. However, the quality of girls won't be anywhere near as high as those found in the elite clubs, so keep your expectations in check.
Blanchy's Lounge
This place is frequented by locals and expats alike.
Drinks and food can expensive, especially outside of happy hour.
Most of the women you meet here will be in some sort of office type of role usually a managerial role.
The age range of girls tend to be mid 20's and up.
Be aware though, there's a lot of shisa smoke inside at times, and it can be quite loud, making it difficult to talk, especially on busy days.
It might be worth to drop by for a pre-drink before heading out to some of the other venues.
Address: 95 Hai Bà Trưng, Bến Nghé, Quận 1, Hồ Chí Minh, Vietnam
Lush
This used to be one of the most happening places here in Saigon, however its since been overtaken by some of the other clubs and sky bars.
It can be a hit or miss nowadays. Come during ladies night and the place has more people, pick the wrong day and its practically abandoned.
Still this bar does have its certain appeal.
There's a small dance floor in front of the DJ and a large bar area.
The crowd is a mix of locals, foreigners (expat and tourists).
There are a few working girls here though unfortunately so better be careful.
Expect music to loud and drinks to be overpriced in this somewhat small bar/club.
Address: 2 Lý Tự Trọng, Bến Nghé, Quận 1, Hồ Chí Minh, Vietnam
Carmen Bar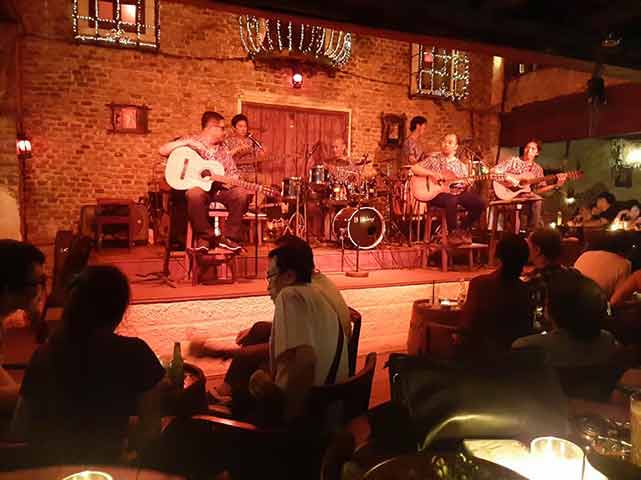 This bar features live music specializing in Latin music.
This rustic bar is a great place to come chill out and relax with its soothing cosy environment, which makes it the perfect place to strike up a conversation with a cute girl seated right beside you.
The prices for cocktails however are on the expensive side. Also there's no dance floor here. Its all just tables overlooking the center stage.
The crowd tends to be on the older end of the spectrum though (late 20's+).
For younger guys, you might get bored of the place and not vibe well due to the older crowd, however for those guys middle aged, this will be a good place to game.
Address: 8 Lý Tự Trọng, Bến Nghé, Quận 1, Hồ Chí Minh, Vietnam
Qui Cuisine Mixology
And finally we have Qui which is located on Le Thanh Ton street, the same place where you'll find the likes of the Vincom center and Japantown.
Expect high end prices, and a lot of expats here.
The clientele caters to a mix of locals (usually well off or in managerial positions) and expats. Most of the people should be able to converse in English here.
There are also some known gold diggers that frequent this joint.
In the evenings, this place gets packed, especially on ladies night.
Most of the girls here are late 20s and up and have good jobs so don't bother coming here to game if your a penny pinching backpacker. The girls here want guys with good jobs.
Its one of the better joints for meeting girls due to the bar setup and the high traffic.
There's also live performances on some days of the week as well.
Address: 22 Lê Thánh Tôn, Bến Nghé, Quận 1, Hồ Chí Minh 850000, Vietnam
Conclusion
In this article, we covered the best Ho Chi Minh City nightlife spots to hit here if your looking to meet girls.
Here's a summary of those places:
Clubs

Envy
Republic Club
The Yolo Lounge
Xing Xing
Kasho Club

Sky Bars

Glow Sky Bar
Chill Sky Bar
Above Sky Bar
Saigon Saigon Rooftop Bar
SKYXX – Garden & Lounge

Bars

Blanchy's Lounge
Lush
Carmen Bar
Qui Cuisine Mixology
Each venue will cater to a different crowd so if one or two of them aren't vibing with you, you can always hit another venue that is more to your liking. Clubs will suit those individuals that are into table service and dealing with highrollers, while the sky bars and bars are a little more on the low key side of things if your not the type of person that likes to flash their wealth around.
With so many nightlife options at your fingertips, meeting a cute Vietnamese girl shouldn't be a problem here in Ho Chi Minh City.
Let me know in the comments below where you typically like to go to meet Vietnamese girls in the evening and what you think about the Ho Chi Minh City nightlife here.