By Air (Domestically)
There are three airlines here that service the Vietnamese population for domestic flights
VietJet is known for having outrageous publicity stunts such as having flight attendants in bikini's to attract media attention.
All of the airlines are more or less the same. Expect cheap fares but cramped seats and them charging for everything including checked luggage, food and water, seat selection, etc. If your looking to get to another city in Vietnam relatively quickly for cheap, then there's no better option then taking a flight with one of these airlines.
I have found that booking through skyscanner is usually one of the cheapest options.
Caveat: Expect delays on most flights
Visa's
Depending on which country your coming from, you may be required to possess a Visa when you arrive in Vietnam.
If your arriving from the following 24 countries below then you are exempted from needing a tourist Visa.
This list is accurate as of January 2019.
| | |
| --- | --- |
| Country | Maximum # of days allowed in Vietnam |
| Chile | 90 |
| Cambodia | 30 |
| Indonesia | 30 |
| Kyrgyzstan | 30 |
| Laos | 30 |
| Malaysia | 30 |
| Singapore | 30 |
| Thailand | 30 |
| Philippines | 21 |
| Brunei | 14 |
| Myanmar | 14 |
| Belarus | 15 |
| Denmark | 15 |
| Finland | 15 |
| France | 15 |
| Germany | 15 |
| Italy | 15 |
| Japan | 15 |
| Norway | 15 |
| Russia | 15 |
| South Korea | 15 |
| Spain | 15 |
| Sweden | 15 |
| United Kingdom | 15 |
In addition to a Visa, you may also be required to have an invitation approval letter as well as pay for a stamping fee when entering the country.
If you need a Visa and an approval letter to come to Vietnam, then I recommend the following Vietnam visa service provider Vietnam-Visa.com.
They have quick turnaround times between 2 working days to only a few hours during regular office hours
You can apply and book it online
They offer 24/7 support
Tours in Vietnam
As Vietnam is a very popular tourist destination due to its cheap cost of living and sub-tropic weather with beautiful mountains and beaches, many tourist companies have sprang up.
Unfortunately this has also attracted some bad apples to the bunch. It's common to see come scammy tour operators do a lot of bait and switches during tours or ask for extra money.
That's why its important to only go with reputable tour companies.
Here is a one tour company that I recommend that is highly rated on tripadvisor. They offer tours in both southern and northern Vietnam in places like Ho Chi Minh City and Hanoi.
If your interested in booking a tour, come check out TakeMeTour.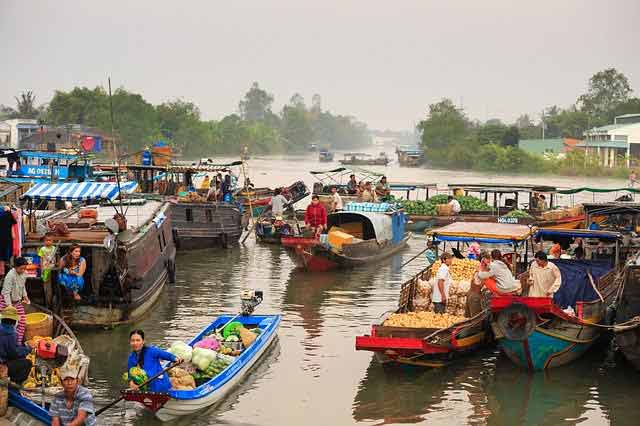 Getting Around The City
Taxi's
For Taxi's only use the following two companies. Not only are they cheaper then the other taxi companies here in Vietnam, your chances of getting scammed are much lower.
Avoid knock offs of these two taxi's. There are a few companies out here in Vietnam looking to take advantage of foreigners lack of awareness by having taxi's that resembles these two taxi companies. You will find taxi companies with similar names ie. Vinataxi or even ones trying to copy the design of the taxi's but having a slightly different name.
Ride Sharing
The majority of locals and foreigners use Grab for getting around the city. You have the option of selecting either a motorbike or a car of different sizes and lengths. The fare is based on distance, as well as time of the day and demand. During rainfall and rush hour, expect fares to be much more expensive then non-peak hours. For non-peak hours I would recommend that you take a taxi instead.
Although not many of the drivers speak English, you won't really be required to communicate with them as you select your location on your app and can also see the fare price before booking your trip.
To use either one of these ride-share companies, simply download their app onto your phone.
Grab:
Go-Viet:
Avoid the xe ôm (motorbike taxi drivers) that you see sitting down and mope around all day waiting for customers. They will charge you more money then what Grab and GoViet charges. Not recommended unless there is nothing else around.
Train
If your looking to see a bit of Vietnam while on your journey and your not pressed for time then perhaps a train ride will be better suited for you. The cost of a ticket is varies but you can expect one to cost somewhere around the price of a plane ticket. You have the option of either a 4 or 6 seater bunk bed sleeper cabin and those are even divided into a hard or soft surface. There is also another cheaper option which is a regular train seat.
Here is the list of the rail companies that service the public:
Vietnam Railways
Vietnam Railways is the national train carrier of Vietnam and offers a 1600km reunification line that connects Hanoi in the north with Ho Chi Minh City in the south. The whole journey takes about 35 hours on the train so come prepared. Along with the reunification line, the railway also makes stops at major cities in Vietnam such as Nha Trang, Da Nang, Hue, Haiphong, Ninh Binh, and Lao Cai. The price of a ticket depend on whether or not your getting a seat or a bunk bed in either 4 or 6 bed configures and also whether or not the surface is hard or soft.
Purchase your tickets here.
Livitrans Express Train
If your looking to spend some time up north may be an option for you. Livitrans express train connects Hanoi with Lao Cai (Sapa) in the north, Hanoi with Hue and Da Nang in central Vietnam, and Ho Chi Minh City with Nha Trang. All of the cabins are 4 berth vip sleeper bunk beds with charging stations as well.
To purchase a ticket you can visit there official site here.
Violette Express Train
Violette Express Train is a relatively new private train company that began operations back in 2016. The company only offers 4 seater VIP bunk bed cabins at the moment. Like the other train operators, Violette Express Train offers routes between Hanoi and Lao Cai (Sapa) and Hanoi, Hue, and Da Nang.
Get your tickets here.
Disclaimer: I have not gotten the chance to take any train trips yet here in Vietnam, as I usually travel by plane. However, I have spent hours researching train travel here in Vietnam to find you the best information that's out there.
Concluding Remarks
Unlike in the past, nowadays you have plenty of affordable options for getting around in Vietnam. I hope this guide has been of some help to you.