Everybody wants a good quality girl that they can feel proud to be with.
But where do you go to find these high-quality girls?
If your just looking for some short term fun then fine, a night out at a club or bar will suffice.
But if you're looking to find a real keeper then these places probably aren't the best places to go.
Short of penetrating some high society social circle in Vietnam here, your best chances of meeting the best quality girls here is through day game.
For those of you that specialize in day game, your in for a treat today.
In today's article, I'm going to share with you some of the best day game spots in Ho Chi Minh City to meet Vietnamese girls.
Malls
In Vietnam, most of the people get by with a motorbike. This means you probably won't catch a lot of girls walking out and about, thus limiting your pool of women to approach. However, most of the girls congregate at the malls to go shopping, hang out with their friends, or just to cool down. This makes it a prime location for running day game.
The malls in Vietnam are great for running day game due to the following reasons:
Large selection of targets including customers and employees
Easy to transition to instadates
Great place to escape the heat plus there's air conditioning
This is a list of malls that are usually quite busy with traffic. You can't go wrong with any of these locations. To also sweeten things, the surrounding areas also have decent traffic as well, in case you want to switch things up.
Vincom Center Đồng Khởi
Address: 72 Lê Thánh Tôn, Bến Nghé, Quận 1, Hồ Chí Minh
This mall is centrally located in district 1. Its a bit small and claustrophobic compared to some of the other malls, but the traffic here is pretty good. You will often see a lot of hot chicks walking around here all decked out in dresses and make up. The quality of the talent here is much better then some of the other malls further away.
Tip: One caveat to be aware of is, since everything is so close together, like the shops, booths, and escalators, be mindful of how often your approaching girls.
Otherwise you will quickly be seen as the creep harassing all the girls that pass by. Don't be one of those spam approaching idiots that approaches every single girl on site and creeps everyone out.
If you do, don't be surprised when those dudes wearing the blue uniform escorts you off the premises and bans you.
There's multiple floors at this mall, and plenty of entertainment including a movie theater, food court on both the bottom and top floors, and a gym. Its a great place to meet girls and also cool off from the drenching hot weather here in Saigon.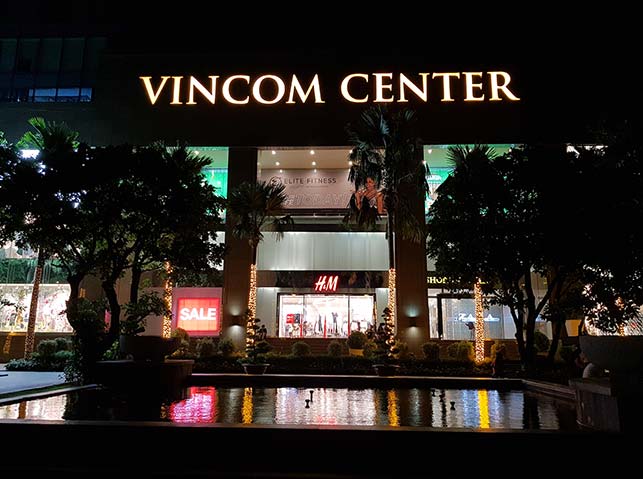 Takashimaya Vietnam/ Saigon Center
Address: 92-94 Nam Kỳ Khởi Nghĩa, Bến Nghé, Quận 1, Hồ Chí Minh
This is another upscale mall located in district 1 a short walk away from the Vincom Center. I prefer chilling out at this mall more than the Vincom Center because the air conditioning is much cooler here and the floor plan of the mall is much wider, making it less obvious if your trying to hit on some girl. However, Vincom tends to have more traffic from what I've found.
Like, Vincom Center, the mall also features several floors with plenty of shops. However, there isn't much to do here except shopping and eating at one of the many overpriced restaurants here. The food selection is also more limited here, comprised mainly of Vietnamese and Japanese food.
The talent on the other hand holds up quite well with the Vincom Center. I would rate both places equal in terms of quality.
Crescent Mall
Address: 101 Tôn Dật Tiên, Tân Phú, Quận 7, Hồ Chí Minh
This modern mall is located in district 7 in Phu My Hung, an affluent neighborhood that has a large minority of Koreans living there.
The mall is big and spacious, much larger then the malls in district 1 and has an indoor arcade and movie theater upstairs as well. Outside you can find crescent lake overlooking the mall along with the starlight bridge that lights up in the evenings.
In addition to be being a great place to day game, its also an excellent place to take dates to, as its much quieter and romantic then some of the other malls in district 1.
If you don't mind the long commute to get to this mall, roughly about 30 minutes from district 1, then its a great place to game, as there will be virtually no foreigners here except for Koreans.
Landmark 81
Address: 208 Nguyễn Hữu Cảnh, Phường 22, Bình Thạnh, Hồ Chí Minh
This newly built tower, hotel, condo, and shopping mall is located in Bình thạnh district, a short 15-20 minute ride from district 1.
As of 2019, it is the tallest tower in all of Vietnam.
Inside the mall, you will find a skating rank, food court, movie theater, and supermarket. On weekends, expect the mall to be jam packed full of cute girls.
If you venture outside of the mall and aren't afraid to cross the death defying roads filled with drivers who's only purpose is to drive as quickly as possible to get to their destination with zero regard for pedestrians, then you'll be arrive at a lush clean park overlooking the Saigon river.
If you live in the Bình thạnh district and are too lazy to head down to district 1, then this is a great place to day game.
Walking Streets
Walking streets are another great way to meet Vietnamese girls. Vietnamese girls usually head out in pairs or groups. Its very rare that you will find one alone outside unless she's riding a motorbike. So if your planning to chat them up, be prepared to either bring a wing man or entertain both girls.
During the daytime don't expect much traffic on the walking streets, as Vietnamese and East-Asians in general hate the sun, but come here on an evening and the streets take on a brand new form of life.
Some of the advantages of meeting girls on walking streets include:
Lots of traffic and girls around, especially during festivals
Can transition to instadates easily with a lot of cafes nearby
Huge variety of girls can be found here
Quality of girls can be quite high
Nguyen Hue Street
Address: Nguyễn Huệ, Bến Nghé, Quận 1, Hồ Chí Minh

This is one of the most famous and iconic tourist destinations here in Ho Chi Minh City. Come here during the day and its a ghost town, but come here at night, and you'll feel like your in a different part of town.
On weekends the roads are closed and the strip becomes a walking street but you can also visit here during the weekday to do some approaches too.
Don't bother coming here in the morning and afternoons. There's no shade cover and no one is around.
But in the evenings, expect loads of people to come here at dusk. You will find here a combination of students, career women, families, tourists, and occasionally a working girl with some nasty old geezer.
If you're looking to switch things up, there are numerous tourists that visit this street such as westerners, Koreans, Mainland Chinese, and Japanese girls.
Because the area is in close proximity to numerous restaurants and cafes, bouncing a girl from here to an instadate is quite easy.
Bui Vien Street
Address: Bùi ViệnPhạm Ngũ Lão, Quận 1, Hồ Chí Minh
This is also another very famous street in the Pham Ngu Lao area aka. Backpacker area similar to Khao San Road in Bangkok. Most of the low class backpackers and western tourist congregate over here.
Expect to see a lot of bar fights, drunk foreigners, drug users, hookers, and massage girls trying to solicit business from you.
It wouldn't be my #1 choice for a day game spot as most of the people here are trashy and low class, but if quality is not a priority for you, and you want a place with a large volume of traffic then you won't find it anywhere else.
Most of the "good girls" won't be dead caught in a place like this. So expect most of the girls that you meet here to be a bit more liberal and non-conforming to tradition. Great if your just looking for quick lays.
I came here one time during Halloween and the place was ridiculously packed. You couldn't even walk because of the sheer volume of people. That's just how packed it can get sometimes.
Parks
Parks are excellent places to go to run day game. They are usually quite, peaceful and loaded with locals.
Some advantages of day gaming at parks include:
Cute Vietnamese girls approach you
Quiet, peaceful, and less distracting
Girls aren't in a hurry
23/9 Park
Address: Phường Phạm Ngũ Lão, District 1, Ho Chi Minh City
This park is located right beside Bui Vien street. On late afternoons and weekends, expect to find mobs of students here. Due to the proximity of the park to the backpacker area, the students come to this park in the hopes of locating some westerners to practice their English speaking skills.
If you got a serious case of approach anxiety or your just lazy and expect things to be handed to you on a silver platter then come here. You don't even need to approach anyone.
if you look like an obvious foreigner, expect groups of students to approach you to practice their English. But don't expect top shelve quality from the leads. Most of the girls here aren't the best looking and you will have to deal with some competition from other foreigners looking to get in on the action as well.
Lastly expect to get cock-blocked as you simply won't be dealing with one girl, but a group of people all wanting to talk with you. There will be lots of prying eyes around. Best to write your contact details on a piece of paper and just hand it to the girl discreetly.
Vinhomes Central Park
Address: Vinhomes Central ParkPhường 22, Bình Thạnh, Ho Chi Minh City
Another target rich park that is packed with local Vietnamese and foreigners alike. The park is situated directly across from Landmark 81, the tallest tower in all of Vietnam.
The park is pristine and has a beautiful European feel to it. You will find lots of cute young Vietnamese girls here with her friends taking photos or couples out on a date.
The park has plenty of private secluded benches that you can use to talk with girls to remain discreet.
After hitting it off with a girl here, you can transition into an instadate by bringing her over to Landmark 81 for a coffee.
Coffee shops and Tea Shops
Coffee culture is huge here!
You will find most of the cute girls scattered all throughout the coffee shops in the city. Most of them go there to hangout with their friends or to do their homework in the confines of a coffee shop.
Just pick one that has ample seating and huge traffic and soon you'll be be meeting cute Vietnamese girls left and right.
A lot of the girls going to these coffee shops should possess basic English speaking skills.
Its best to pick a spot at the communal table if possible. This makes opening girls easier and makes it more natural for the both of you.
And if your not much of a coffee drinker like me, then there's always milk tea as well.
Some of the benefits of day gaming at coffee and milk tea shops include:
Can have a large volume of targets
More time to converse with girls vs a moving target
Can transition to sitting beside the girl and having an instadate right at the location
Air conditioning!
There are a tonne of coffee shops in the city, so go explore a few and see what works for you. Here is a list of some coffee shops that I found to have pretty good traffic and seating setups for opening girls.
Phuc Long
Extremely popular coffee and milk tea shop with locations spread all throughout the city. You'd have to try really hard not to find one. Most of the locations are quite spacious with tonnes of seats and air conditioning inside. The one I listed below is located at crescent mall and is usually packed, giving you an excuse to sit beside some girls.
Address: Crescent Mall, GF-21B Tầng Trệt Khu, 101 Tôn Dật Tiên, Tân Phú, Quận 7, Hồ Chí Minh
The Running Bean
This huge coffee shop is located in district one right behind Nguyen Hue street. It's usually quite crowded inside due to the central location.
Both inside and outside of the coffee shop, you can find lots of tables and chairs for your seating pleasure, but I recommend you pick a seat at the communal table located in the center.
This allows you to remain low key will still hitting on girls at the coffee shop. Just simply ask her what she's having and if its good or not. Then take it from there.
Address: 115 Hồ Tùng Mậu, Bến Nghé, Quận 1, Hồ Chí MinhBạn đã ghé thăm 4 tháng trước
Three O'Clock Cafe
This coffee chain is located in a large building with several floors. There are communal tables on each floor that you can use to your advantage to open sets. The place can get quite busy so grabbing a seat can be a a problem, but this just gives you an excuse to sit together at a table with some cuties.
Happy hunting!
Address: 481 Đường Lê Văn Sỹ, Phường 12, Quận 3, Hồ Chí Minh 800000
Starbucks
I'm not a fan of their overpriced coffee but the location beside the Rex Hotel is a gold mine. There are lots of seats and a very large communal table that can be used to open sets. In fact, yours truly opened a Korean girl at this very Starbucks not too long ago using the communal table.
You can camp out here for 2-3 hours while sipping on a drink and just wait for the girls to come to you.
Address: 141 Nguyễn Huệ, Bến Nghé, Quận 1, Hồ Chí Minh 70000
If you'd like to read more about some other coffee shop locations then check out my article here.
Conclusion
In this article, we looked at several different high volume day game spots in Ho Chi Minh City for meeting Vietnamese girls that will give you the best bang for the buck.
If you're after the crème de la crème then day game is your best bet without having to break into social circles.
I hope you found this list useful and can use it to increase your odds of meeting more cute Vietnamese girls.
Leave me a comment below about where you like to typically go to day game here in the city.