Intro
Deciding where to stay in Ho Chi Minh City can make or break your trip to Vietnam.
Pick the wrong place and you might end up in some run down hole in the wall rice paddy suburb of the city where coming across even basic necessities like electricity is seen as a commodity.
Pretty soon, you'll wish you were on the first flight out of the country.
Whereas if you pick the right place, you'll soon fall in love with the city and make great friends and connections with locals to last a life time.
With 2 dozen districts dispersed all throughout the city, it can be quite a challenge to pick a good location to stay at.
That's why I wrote this article detailing the various most popular districts and where to stay in Ho Chi Minh City to ensure you have the best stay possible while your here.
These are the most popular districts in my opinion to stay here in Ho Chi Minh City:
District 1
District 2
District 3
District 4
District 7
District 5, 6, 11
Binh Thanh
Phu Nhuan
District 1
If your looking for a central location in Ho Chi Minh City, there is no better place then district 1.
District 1 (D1) is located in the heart of the city and is the financial hub of Saigon.
Its central location makes it ideal and convenient to travel to the other districts in the city. As a result of this, rent and food prices are through the roof.
Its not uncommon to pay 2-4x the price of what you'd be paying in a district only 10-15 minutes away.
You'd soon be in tears if you only knew how much less you'd be paying in some of the other districts!
The central location and convenience costs a premium.
Expect to see loads of tourists, backpackers, and of course the occasional begpacker holding up a cardboard sign looking for someone to support their travels.
Traffic can be quite a nightmare here as well due to it being the main connection point between the different districts.
Many famous attractions are located here in district 1 such as:
Ben Thanh Market
Notre Dame Cathedral
Saigon Central Post Office
Book Street
Bitexco Tower
Turtle Lake
Saigon Zoo and Botanical gardens
Independence Palace
War Remnants Museum
Opera House
Nguyen Hue Walking Street
People's Committee of Ho Chi Minh City
Ben Thanh Market is a popular tourist destination when visiting Vietnam. Inside you will find a variety of shops selling souvenirs of all kinds such as clothes, trinkets, and food that you can bring back home.
But I don't recommend you visit this tourist trap as most of the prices are marked up significantly. They might as well write a sign up front saying prepare to get ripped off!
If you think you can negotiate your way out of a bad deal, think again.
Your haggling skills unfortunately won't save your wallet as a lot of the shops have signs that say fixed prices meaning you can't even weasel down the price.
instead you can check out Saigon square located directly across from the Saigon center. Prices there are a lot more reasonable and you can haggle too.
This district is the most walk-able out of all the districts, and most attractions are within walking distance.
Due to the district being a nesting home for tourist, expect to find a near limitless amount of hotels here. Some of them can be had for very cheap too starting around $20 USD a night!
If your looking to party till you drop, there's the infamous backpacker area known as Pham Ngu Lao and Bui Vien street. Over there, you can partake in debauchery activities like alcohol, drugs, hookers, happy ending massages, and of course getting high off of helium balloons.
If the crazyiness in Pham Ngu Lao is too much for you, then you can head on down to Đồng Khởi street instead. The street gives off an old french colonial feel with many luxury buildings all painted in white.
On this street you will find several famous attractions like The Notre Dame Cathedral, Saigon Central Post Office, and the Opera House.
Lots of designer brands have made this street a second home as well as the Vincom center, one of several malls located in district 1.
Located close by to the Vincom center is Nguyen Hue walking street and the Bitexco tower.
It used to be the tallest tower in all of Ho Chi Minh City, but sadly it recently got dethroned by the new Landmark 81 building.
Poor Bitexco 🙁
But its still worth checking out as their's a movie theatre, food court, and skydeck located in the tower. Plus its a hell of a lot cheaper then the admission price of Landmark 81 (200k vnd vs 810k vnd).
This district is also home to numerous bars and clubs. For those of you into a vibrant nightlife, there is no better place to stay at.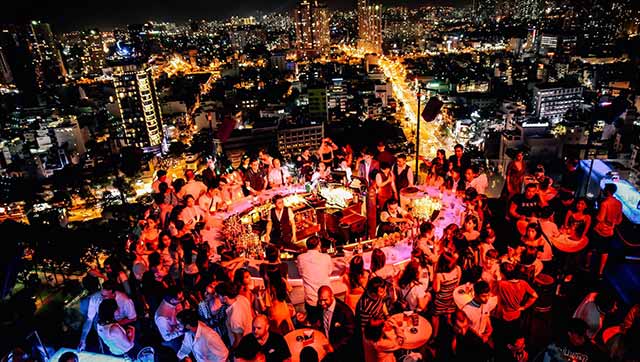 Who Should Stay Here
Those that like to be centrally located in all of Saigon and have easy access to the other districts
Want to be in an English friendly part of the city
Like to do a lot of touristy stuff
If your loaded and rich or like to be around tourist and backpackers
Enjoy visiting bars and clubs
Daygamers
Like to drink and party
District 2
"When in Rome, do as the Romans do".
Unfortunately this doesn't apply here.
District 2 (D2) is the infamous expat district enclave, where anywhere you go, you'll end up running into some sort of an "expat" especially in the Thao Dien area.
The expats living in the area seemed to have carved out a little niche for themselves opting to follow a more western lifestyle and excluding themselves from embracing the local customs and traditions.
if you come here, be prepared to be surrounded by either ESL "English" teachers who hate their life or rich and cocky affluent folks.
This district is about 20-30 minutes away by car or motorbike depending on traffic. It isn't the most convenient district to get around the city, however there are enough things to do here to make up for it such as creative spaces, malls, bars, and plenty of parks.
The biggest shopping mall you will find in the area is the Vincom Mega Mall, which has a movie theater and indoor ice rank, similar to the one at Landmark 81.
There are loads of restaurants catered towards expats, so if you miss western food or got sick of local Vietnamese food, this district will make you feel right at home.
Several international schools are present in the area such as European International School HCMC. If your raising kids in Vietnam but want to give them a western education, district 2 is your best bet.
Just don't expect it to be cheap!
Traffic in this district can get quite congested as well during rush hour. Flooding is also an issue during the monsoon season.
However, a metro line running through district 2 is set for completion in 2020 which should elevate the traffic issue.
Housing her is a fair bit cheaper compared to district 1 and 3 with lots of choices. For around $500-600 USD, you can get a nice luxury 1 bedroom apartment.
The area is modernizing at a rapid pace, and there aren't really any historical attractions to be found here.
Also compared to district 1, the nightlife here is pathetic.
Who Should Stay Here
If you want to live in a western bubble and feel like your not in Vietnam
Want to be surrounded by expats
Want to live somewhere more quiet
Prefer western comforts
Although rent is much cheaper here and its less noisy and crowded, I personally find district 2 to be quite dull. It loses its Vietnam charm by trying to turn itself into a western expat enclave.
District 3
Do you love shopping and street food?
If yes, then you'll love district 3 (D3).
Only a short 10 minute ride from district 1 brings you into daily contact with the locals without all of the touristy mess.
If you don't want to deal with annoying tourists and people trying to sell you stuff while saving a few bucks in the process, then district 3 is for you.
Accommodations in district 3 are a tad cheaper compared to district 1 while still allowing you to be centrally located.
Le Van Sy street runs along district 3 and is well known for its street food and clothing stores.
Looking for food in district 3 is a breeze as there are many options available anywhere you go.
Attractions you can find in this district include:
Tonnes of street food
Le Van Sy street
Lots of coffee shops
Nguyen Van Troi market
Loads of clothing stores
Food costs in district 3 is also really reasonable.
Expect significant savings between 2-3x less than what you would pay in district 1.
A bowl of pho costs around 40k vnd, while a plate of broken rice starts at 25k vnd.
Nguyen Van Troi market is also located on Le Van Sy street where you'll find a wet market, street food vendors, and a large assortment of goods available for purchase at local prices!
If the food at Nguyen Van Troi market wasn't enough to satisfy your taste buds then the many restaurants serving hot pot and grilled mouth-watering seafood along the canal surely will.
In terms of entertainment, there are a lot of cafes located in district 3, with a few nightlife options such as Barocco club and a movie theater.
Despite all of its positives, traffic jams are common during rush hour as the roads are narrow and the area can be quite noisy. Lastly, there are no shopping centers in district 3 which is bummer.
Who Should Stay Here
Want a local feel
Want to be centrally located
Love food and shopping
Want cheaper living expenses compared to district 1
District 4
This area used to be known for having a lot of gangsters and people were afraid of even driving by the area for fear of being robbed.
However, in recent years, lots of new developments have sprung up in the area. This has lead to attracting a different breed of residents to the area, and the probably won't rob nor mug you neither.
District 4 (D4) is sandwiched between district 1 and 7, and is surprisingly cheap for its central location. A rarity it seems with lots of landlords and development companies trying to rip off foreigners with overly inflated rental prices.
These affordable rent prices along with its close proximity to district 1 has made the district a hit as of late. Many youngsters have since made this district their new home.
Despite district 4 being quite small, in fact the smallest of all the districts, you can find many modern luxury apartments such as the Galaxy 9 apartments at decent prices here.
The following attractions can be found here:
Dragon Wharf – Museum documenting the birth and history of Vietnam
Local street food
Shopping
Local markets including a wet market such as Xóm Chiếu market
The area is populated by many restaurants and street stalls that sell delicious food at rock bottom prices.
There are still some sketchy areas in the district, and people have been known to get robbed of their belongings.
Therefore, if visiting or living in the area, its advised to be cautious of your surroundings.
Who Should Stay Here
Those looking for more affordable rent yet still be located centrally
Want to have a more rough local feel to the neighborhood
Often travel between district 1 and 7
Want to join the Vietnamese mafia
District 7
District 7 (D7) is one of the newer districts to grace the city and takes about 20-30 minutes by car depending on traffic.
There is always ongoing development and new facilities are being built practically all the time.
The roads and sidewalks are much larger and wider here compared to other districts in Ho Chi Minh City and the neighborhoods are quieter too, especially Phu My Hung.
If your into Kpop or korean culture, you'll love it here. District 7 is home to the largest korea town in all of Saigon with an estimated population of 20,000 Koreans staying in the area especially along Pham Van Nghi Street.
Attractions located here:
Korea town
Crescent mall and SC Vivo City
Crescent lake and starlight bridge
In the Phu My Hung area, expect to find a lot of Korean restaurants, sprinkled in with a few western restaurants and bars. If visiting the area, you won't go a day without hearing the words "Annyeong-haseyo" being ushered out.
When I came to Pham Van Nghi Street for the first time, I was shocked at how many Koreans I saw there. It made me feel like I was in Korea instead of Vietnam. The Koreans have quickly colonized the area turning it into a little Korea town.
I thought this was supposed to be Vietnam, but apparently the Koreans in the area didn't get the memo.
Also for some reason the Vietnamese working in the area don't seem quite as friendly and happy-go-lucky as their counterparts in other districts. They seem to have all developed a resting bitch face.
If hanging out with Koreans aren't your cup of tea, there are other expats from different countries residing in the area as well.
In addition to finding lots of Korean and western restaurants here, the district is home to 2 shopping malls, the crescent mall and SC Vivo City.
Both are quite large by Vietnamese and even some western standards. Movie theaters, food, bowling and games, the two malls have it all.
Beside crescent mall is crescent lake and starlight bridge, the perfect romantic place for dates. During tet, expect to see a whole sea of decorations in the area along with plenty of girls wearing Áo Dài's.
Due to the influx of Koreans and other foreigners, food prices are quite high. If eating out at some Korean restaurant, expect to pony upwards of 100k vnd for just a main entree.
Rent prices can be a hit or miss. If you stay by the Phu My Hung area, expect to pay upwards of $1100 USD but the apartment will be beautiful and quite spacious. If you move further out however, rent prices tend to be quite cheaper, although you lose convenience.
The area is quite clean, safe, and quiet by Vietnamese standards however, its quite far from district 1 and the kpop will eventually get to you and drive you crazy.
Who Should Stay Here
If your Korean
If your into kpop and Korean culture
If you want a quiet place to stay at
If you want to live in a more modern area of town
If your rich and like to flex your muscles
District 5, 6 & 11
This district is all about Chinese food and temples!
District 5, 6, and 11 (D5,6,11) is known as Chinatown (Chợ Lớn) and has the highest concentration of ethnic Chinese living in Vietnam.
The districts are well known for their tasty and delicious food along with their ancient temples and pagodas that receive millions of visitors each year.
Chinatown houses the most amount of temples and agodas in all of Ho Chi Minh City.
Things to do in district 5,6, & 11 include:
Binh Tay Market
Various temples and pagodas such as Bà Thiên Hậu Temple and Tam Son Hoi Quan temple
Various Chinese small restaurants and street food vendors
Đại Thế Giới waterpark
Shopping at the Garden mall and An Đông Plaza

You'll be taken back in time when you visit these three districts as there are many ancient architectural marvels still intact in the area.
These districts are a bit out of the way compared to some of the other districts but it has its own unique charm.
If your a foodie then there is no better place for you then in District 5, 6, and 11. You will be surrounded by some of the best restaurants and eateries in all of Saigon.
Binh Tay market, the largest market in Saigon is located in district 5. Here you can find a wet market full of poultry and seafood, along with various shops selling all sorts of goodies.
As these districts are further out, prices for food and accommodations tend to be much cheaper compared to district 1 and 3.
The major drawback to this area is that its quite far out from district 1 and there aren't really any big malls in the area to go shopping. Your pretty much limited to either The Garden Mall or An Đông Plaza which are quite small.
Who Should Stay Here
If you love Chinese food and Chinese culture
If your really religious and love temples and pagodas
History buffs
Looking to save some money
If your Chinese
Binh Thanh
This area is also a hotbed for expats to live in, especially around the Vinhomes area.
Bình Thạnh district is located right beside district 1, making it an excellent location for those that want to remain relatively close to district 1. A short 10-15 minute gets you into the heart of district 1.
Things to do in Bình Thạnh district:
Go for a walk at Vinhomes Central Park
Go shopping at the Landmark 81 shopping mall and tower
Visit the Thi Nghe Market
Take photos at Thanh Da Island
In Bình Thạnh district, expect to gape at the Landmark 81 tower, the tallest building in all of Vietnam (as of 2019).
Bình Thạnh is also home to the Thi Nghe Market where you can purchase local produce, fish, and poultry at the wet market.
Directly across the bridge connecting district 1 and bình thạnh district, you can expect to find dozens of food carts along Phan Văn Hân street.
If you journey towards the northern end of binh thanh, you will come across Thanh Da island and Binh Quoi tourist village, that is hidden away along the Saigon river. This secret retreat will whisk you away to rice paddies, fishing ponds, and plenty of gardens. The island gives you a taste of what south western Vietnam is like (Mien Tay) without having to travel for hours on end.
The island is quite popular for newly weds to come take pictures on a hot sunny afternoon.
On weekends, the island also features a Vietnamese buffet.
Rent prices in this district are cheap despite its central location. You can find a reasonably modern 1 bedroom apartment for around $500 USD in this district.
However, there is a serious lack of food options around the Vinhomes Central park area.
Once you leave the more expat friendly areas in Bình Thạnh, you'll experience a more rougher side to the district where all the locals live.
Expect lots of traffic, loud noises, and even phone and purse snatchers to be present.
I had a girl that I was seeing get her phone snatched up while she was on a grab bike at a traffic light stop.
Be careful with your belongings here!
Who Should Stay Here
Looking for a quieter neighbourhood (Vinhomes area only!)
Looking to save some money
Want to be centrally located without having to spend a fortune on rent
Phu Nhuan
Phu Nhuan district borders between district 1 and 3 and is a short 10 minute drive from district 1.
It is an up and coming district with many cafes scattered throughout the area.
Things to do in the district:
Lots of cafes
Tonnes of restaurants and eateries
Plenty of temples and pagodas such as Phu Long Pagoda
Phan Xich Long street in Phu Nhuan has developed a reputation for having an amazing selection of restaurants and mouth-watering street food stalls.
You will be able to find practically any cuisine you so desire on this stretch of street.
Expect cheap food prices to be had here, similar to district 3.
Along with street food, there are a few local markets in the area such as Phu Nhuan Market (Chợ Phú Nhuận) and Nguyen Dinh Chieu market (Chợ Nguyễn Đình Chiểu) that offer plenty of fresh produce at dirt cheap prices.
Expect rent prices to be around the same as district 3 or slightly cheaper the further out in Phu Nhuan you go. You should be able to save at least an extra $50-100 USD in rent here. It's still a bit of a savings compared to staying in district 1.
A few disadvantages of living in Phu Nhuan is that despite the wide roads, traffic congestion still exists especially during rush hour.
In addition, Phu Nhuan doesn't have much of a night life nor offer any shopping malls in the vicinity. You'll need to head to either district 1 or somewhere else to seek entertainment.
Who Should Stay Here
Foodies
Coffee lovers
Love visiting temples and pagodas
Want to stay at a more quieter part of town
What About the Other Districts?
My advice?
Don't bother, they are too far out, making them inconvenient to travel to. You won't find much of a nightlife in those districts neither and traffic can be just as bad. Also don't expect a lot of modern infrastructure in the outer-lying districts.
Conclusion
Deciding on where to stay in Ho Chi Minh City can be a huge headache if you don't have the right intel.
luckily, you do now!
To wrap things up, we looked at several districts in this article that could provide adequate accommodations for someone here for either short or long term.
These districts include the following:
District 1
District 2
District 3
District 4
District 7
District 5, 6, 11
Binh Thanh
Phu Nhuan
Each one of these districts has their own unique feel to them and cater to different needs.
My recommendations are the following:
if you like staying in a centralized location with plenty of things to do plus an abundant nightlife stay in D1.
If you want more modern facilities in a quiet neighborhood living with expats than stay in either D7 or D2.
If you want to be centralized but not surrounded by tourist while saving a little bit of money than stay in D3, D4, Phu Nhuan, or Binh Thanh.
If you love Chinese food and culture than stay in D5, 6, and 11.
Would you like to learn more about attractions in some of these districts? Click here to read more.
For more travel related resources and information about getting around Vietnam, check out my travel resources page here.
Learn more about expat life in Vietnam in this article here.
Have you stayed at any of these districts before? Let me know in the comments what your experience was like.