Intro
Ho Chi Minh City is the most populated city in all of Vietnam, with ample opportunity at every corner.
Its of no surprise that the hottest prettiest girls from all over the country choose to come here with the hopes of making it big.
Singers, models, movie stars, beauty pageant queens, you name it, most of them live in Ho Chi Minh City (Saigon).
No where in the country did I ever experience the sheer amount of talent then in Ho Chi Minh City.
So what does this mean for the well put together eligible bachelor?
Lots of dating choices with a variety of cute Vietnamese girls. It's like an all you can eat buffet of dating options that never runs out.
But where do you go to meet all of these pretty Vietnamese girls in this city of dreams?
Today I'm going to be talking about the best places to meet girls in Ho Chi Minh City.
The best places to meet girls in Ho Chi Minh City include the following:
Online

VietnamCupid
AsianDating
Tinder

Malls
Coffee shops
Nguyen Hue Walking Street
Parks
Bars/Clubs
Let's have a deeper look at each one, shall we?
Online
VietnamCupid
VietnamCupid has been around for a while now and has built themselves quite the reputation over the years as the go to place for making it easy for foreigners to meet beautiful Vietnamese girls online.
On their website you will find a large member base of cute Vietnamese girls all interested in meeting a foreigner just like yourself.
The talent is probably one of the best that I've seen here in Vietnam.
Here is some examples of the types of girls you could potential meet on there.
Pretty good quality right?
Unlike some of the other dating apps out there, VietnamCupid does require you to purchase a paid membership, however this separates the girls that aren't serious about dating versus the ones that are.
Most of the girls that you find on there are serious about dating and ready to go out on a date with guys.
If your using the other free apps, expect girls to string guys along for free attention and English practice.
A girl might make you wait a week, a month, or hell even a year before even agreeing to go out with you!
However, on VietnamCupid, girls actually message and chase after guys first. That's just how serious they are about dating here.
This is a screenshot of my inbox. I received 92 messages already from cute Vietnamese girls that want to meet me!
If this was on another dating app such as tinder, it would be the complete opposite.
Another great thing about VietnamCupid is that you can line up several dates before arriving here in Vietnam if your not in the country at the moment. When you arrive, you'll have yourself several cute Vietnamese girls ready to meet you.
Click here to signup for a membership and start going out on dates with gorgeous Vietnamese girls today!
You may also want to check out my in-depth review about VietnamCupid, by clicking here.
AsianDating
AsianDating is a sister website of VietnamCupid belonging to the parent company CupidMedia.
Like VietnamCupid, you can expect to find loads of cute and beautiful Vietnamese girls as well as other Asian girls of different nationalities.
The biggest difference between the two is that VietnamCupid houses mainly Vietnamese girls whereas AsianDating is a mixture of all Asian girls in different countries.
If your interested in dating Asian girls from other nationalities or you plan on visiting some other countries in Asia besides Vietnam, AsianDating may be a better bet for you. However, if your only interested in dating Vietnamese girls then I would recommend that you get a VietnamCupid membership instead.
Click here to signup for a membership and start dating cute Asian girls today.
You can also check out my thorough review of AsianDating by clicking here.
Tinder
Tinder is a popular dating app that is used all around the world. There's a free version and then there's a paid version.
Free version:
Free limited amount of daily swipes
1 free superlike
Can talk with girls once you've matched with them
Paid version:
Unlimited swipes
Tinder boosts
See who likes you
More profile options and can control what people see on your profile
5 super likes each day
Can set your location around the world
Can rewind swipes
No ads
There's a large quantity of girls using Tinder so you shouldn't run out of potential matches ever on the app.
Tinder used to be a lot better however I've been noticing as of late that its starting to become more and more of a cesspool for attracting people that are more interested in increasing the number of instagram followers, looking for attention, or using guys to practice their English rather then actually being used as a dating app.
A lot of girls also nowadays use Tinder as a way of making platonic friends and aren't the least bit interested in dating.
With that being said however, you can still use most of the functionality of Tinder for free still and getting dates with average looking girls, with the occasional above average looking one isn't too hard.
Just don't expect to be bagging models and singers off of it.
You get what you pay for, or rather what you don't!
Malls
Malls remain one of the better options for meeting Vietnamese girls here in Saigon, especially during blistering hot afternoons when the sun is out.
Here expect to find tonnes of cute Vietnamese girls roaming about doing their shopping or just relaxing.
Nearly half of the districts in this city will have a shopping mall of some sort.
There are a tonne of malls here in Ho Chi Minh City such as the following:
Vincom Center
This well known mall is located in district 1 in the heart of the tourist area right beside Nguyen Hue street. There's a cinema, gym, lots of restaurants, and tonnes of clothing stores. Some of the hottest girls frequent this mall.
One major con of meeting girls at this mall is that a lot of stores are located extremely close to each other therefore its quite easy to run the place down if your the type of guy that loves spam approach girls. Better to take your time and pick your targets.
Address: Le thanh Ton, Đồng Khởi, Bến Nghé, Quận 1, Hồ Chí Minh
Saigon Center/ Takashimaya
This is a another big shopping mall located in district 1. The mall is fairly new and it shows in the architecture. There's tonnes of Japanese brands and restaurants located in this mall. Compared to Vincom Center, Takashimaya is quite spacious and often times there are special events held here such as the mid-autumn festival.
Like Vincom, the talent is very high over here as well. Often times you can just sit by the window of a restaurant or coffee shop and become enamored by the amount of hot girls walking right past you.
One con of this mall however is that it doesn't possess much in terms of entertainment. There isn't a movie theater and the selection of food choices is quite limited when compared to the likes of Vincom, however its still a great place to meet cute Vietnamese girls in district 1.
Address: 65 Lê Lợi, Bến Nghé, Quận 1, Hồ Chí Minh 70000
Crescent Mall
This is a large shopping mall located in district 7, near the Koreatown. Its quite far from the center but the area is quite new and clean. If your sick of the high noise levels in the center of the city, then perhaps this mall might be exactly what the doctor ordered. The mall is currently under renovations to expand further which will make it one of the largest malls in all of Saigon.
The mall houses a cinema, food court, and plenty of shops to keep you busy. In addition, you have a tiny lake and the star light bridge that lights up during the evenings, making it a great romantic place to take dates on.
I didn't find the talent here quite as high compared to some of the other malls, however, the shopping experience is much better. You will find lots of Koreans here as well, so if your getting tired of Vietnamese girls or just want some new variety in your dating life, crescent mall is a good option.
Address: 101 Tôn Dật Tiên, Tân Phú, Quận 7, Hồ Chí Minh 700000
Vincom Mega Mall Thao Dien
This is arguably the biggest mall in district 2. The mall kind of resembles the Landmark 81 mall in that it has a cinema, skating rink, food court, restaurants, and your usual stores that the other Vincom malls have.
The last time I went to this mall, it looked kind of deserted, devoid of customers. However that doesn't mean that you can't hit on the numerous employees bored out of their minds playing on their phones. Since the mall's located in D2, where all the foreigners tend to congregate, the employees should be able to carry out a basic conversation in English at the minimum.
However don't expect special treatment just because your foreigner there. There's tonnes of other foreigners lurking about. There's no longer any exotic value to be had at this location.
Address: Số 161 Xa lộ Hà Nội, P, Quận 2, Hồ Chí Minh 713314
Landmark 81
This newly built mall was all the rage last year when it first opened. The lower levels features a shopping mall with all of the trimmings such as a movie theater, ice skating rank, food court, and a plethora of stores.
The upper levels feature a hotel, skydeck, bar, restaurant, and an apartment complex. The mall is usually packed on weekends and there is a sizable crowd during the evenings as well. Here at the mall, you can expect to find a combination of both locals and foreigners with a good amount of Japanese here.
If your in the Bình Thạnh district there is no better mall then here. This mall puts the pearl plaza to shame.
Address: 208 Nguyễn Hữu Cảnh, Phường 22, Bình Thạnh, Hồ Chí Minh 700000
Coffee Shops
Vietnam has a huge coffee drinking culture here. Loads of young girls love to visit coffee shops throughout the day to escape the hot humid heat of the city.
Here is a list of some of the most popular coffee shops located in the city where you can expect to find cute Vietnamese girls.
Highlands Coffee
You will see this coffee chain along with Phuc Long at pretty much every major street in the city. I found the coffee here just ok and nothing special, however the coffee shops are usually crowded and full of people, making it easy to strike up conversations with people seated nearby or in line.
Address: There are a tonne scattered all throughout the city but here's a few locations in popular areas.
72 Lê Thánh Tôn, Bến Nghé, Quận 1, Hồ Chí Minh
65 Lê Lợi, Quận 1, Hồ Chí Minh, Quận 1 Hồ Chí Minh
Phuc Long
This coffee and tea chain has built up quite the reputation for offering premium coffee and tea beverages. Think of starbucks but instead replace coffee with tea and you got a good idea about the type of clientele that they attract.
Their milk teas are quite tasty and aromatic however it can get quite expensive if you drink this stuff on a regular basis. There's usually lots of cute Vietnamese girls visiting a local Phuc Long to grab a drink.
Just sit down somewhere nearby and strike up a conversation with them.
Address: Tonnes located around the city but here's a few locations.
41 Nguyễn Huệ, Bến Nghé, Quận 1, Hồ Chí Minh
Crescent Mall, GF-21B Tầng Trệt Khu, 101 Tôn Dật Tiên, Tân Phú, Quận 7, Hồ Chí Minh
The Running Bean
Drinks at the running bean are quite expensive however, the location is fantastic. Its located right in the heart of Saigon behind Nguyen Hue street.
This coffee shop is large and spacious and there's even a communal table where you can sit beside some cute Vietnamese women without being seen as a creep.
Its very easy to talk with girls if your sharing a table with them.
The high prices for drinks more than justifies the cost for ease of meeting Vietnamese girls here.
Address: 115 Hồ Tùng Mậu, Bến Nghé, Quận 1, Hồ Chí Minh
The Coffee House
Another chain coffee shop with ordinary tasting coffee and average prices. This coffee chain usually has multiple floors in the coffee shop with loads of young Vietnamese girls just camping out there with their friends.
Its definitely worth a visit to try your luck here.
Address: They have multiple locations throughout the city but here's a good one.
141 Nguyễn Thái Bình, Phường Nguyễn Thái Bình, Quận 1, Hồ Chí Minh
Nguyen Hue Walking Street
This is one of the most busiest streets in all of Saigon.
Come here at night, and let your eyes feast on thousands of pretty Vietnamese girls strolling along on this large stretch of street without a worry in the world.
There are tonnes of street food vendors and cafes around the area as well.
Often times you will see groups of girls just sitting by the benches and eating and drinking.
Strike up a conversation with a cute Vietnamese girl and then have an instadate with her at one of the many cafe's in the area.
Or if you have a wingman, you can both approach a set of girls and then go on a instagroup date.
Parks
23/9 Park
This small park is located in one of the sketchiest areas in all of the city besides Bui Vien.
During the daytime, you will see lots of locals playing badminton, exercising, and playing Chinese checkers.
If you come here during the afternoons, often times you will see groups of university students approach foreigners to practice their English.
It can be quite hilarious as you watch a swarm of students just surround some unfortunate foreigner that has agreed to practice speaking English with them.
What was supposed to be a short 10, maybe 15 minute chat soon turns into a hour long session as one after another, the students bombard you with a tonne of questions.
Often times at the end of the conversation, students will ask for your contact details.
The good thing about coming to this park however is that you don't really need to do anything at all.
Just walk around and maybe position yourself near the mob of students and soon enough, they will have a perimeter around you, like a swarm of locusts.
Address: Phường Phạm Ngũ Lão, District 1, Ho Chi Minh City
Vinhomes Central Park
Unlike the previous ghetto park located in Pham Ngu Lao, Vinhomes Central Park is the complete opposite.
Over here you will see fresh cut grass lawns, with beautiful European architectural water fountains and bridges surrounding the park. The park is literally pristine.
The park is located directly opposite of Landmark 81 shopping mall and its surrounding Vinhomes apartments on one side, and the Saigon river on the other side.
This park has more of a local feel to it, with some Asian expats also thrown into the mix.
You will often see groups of cute Vietnamese girls just hanging out, sitting on the lawn or snapping pictures throughout the park.
There's also several basketball and tennis courts, and playgrounds as well.
If you live in the Bình Thạnh district, this is an excellent place to try your luck at meeting Vietnamese girls.
Night Life
Chill Skybar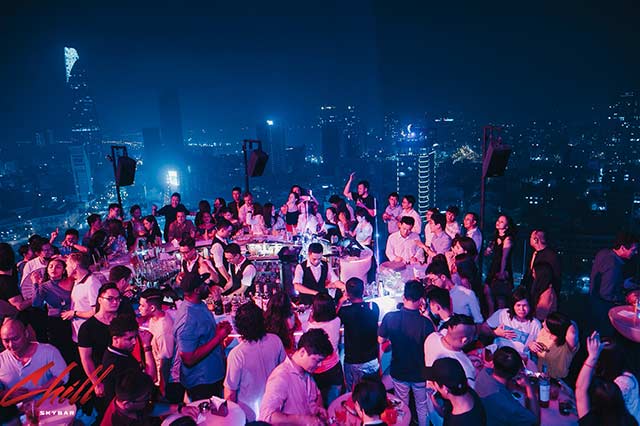 This is one of the many skybars located in Saigon here. The place has a beautiful view of the city, good music, and even has a dress code so make sure you suit up.
Drinks however are overpriced as expected in an establishment like this. Expect to pay 350k vnd for a cocktail or 200k for a beer during regular hours.
Ouch!
Service here can be hit or miss.
Lots of foreigners like to come here as its much easier to socialize with people compared to the traditional nightclubs that you see here in Vietnam where getting a table is almost a prerequisite.
Address: AB Tower, Tầng 26, 76A Lê Lai, Phường Bến Thành, Quận 1, Hồ Chí Minh
Glow Skybar
This skybar is similar to Chill Skybar.
Expect lots of foreigners, overpriced drinks, and small dance spaces.
However, the view is nice and so is the music.
Address: 93 Nguyễn Du, Bến Nghé, Quận 1, Hồ Chí Minh
Lush
This is a small nightclub/ bar located in district 1. There's a small dance floor right in front of the dj/stage area and a bar located right behind the dance floor.
Here you will find a mix of both foreigners and locals ready to party.
Drinks are overpriced as expected and the place can get packed on some nights especially weekends.
This bar does from occasion to occasion have working girls so be careful when trying to meet ladies here. If you notice a girl sitting by herself scouting out the place, its a pretty sure fire sign that she's looking for clients.
Address: 2 Lý Tự Trọng, Bến Nghé, Quận 1, Hồ Chí Minh
Envy Club
Envy Club is one of the more upscale clubs located here in Ho Chi Minh City.
As expected, prices are outrageous for drinks and even more outrageous if you want to get a table.
Expect to pay at least 4 million just to get a standing table here.
The management want to attract big spenders and have no time for the little guys.
The club is quite loud and a bit over the top.
There are however cool dance performers that perform on stage.
Don't expect much of a dance floor though.
The club has a mix of both locals and foreigners.
Come here if you want to show off your wealth.
Address: 74-76 Nam Kỳ Khởi Nghĩa, Phường Nguyễn Thái Bình, Quận 1, Hồ Chí Minh 11111
Kasho Club
Kasho club is another high end club in the city.
Rich local Vietnamese guys along with some of the hottest Vietnamese girls that you could ever lay your eyes on, love to hangout at Kasho Club.
The club caters to mainly Vietnamese and to enter this local joint, your gonna need to get a table.
If you decide to come here, prepare to spend spend spend because prices can be quite expensive.
The preferred drink of choice here is champagne.
There isn't much of a dance floor, however they are plenty of tables to empty your wallets.
There are hostesses that work at this club that will sit and flirt with you for a fee, just don't expect any action. If that floats in your boat then come on down here.
Address: 99 Nguyễn Thị Minh Khai, Phường Phạm Ngũ Lão, Quận 1, Hồ Chí Minh 700000
Bars in Bui Vien
In addition to the previous bars and clubs that I mentioned, there are a tonne of bars located in Bui Vien, however I don't recommend coming here to meet girls in Ho Chi Minh City, as a lot of them like to scam foreigners by adding in extra charges to your bill.
Also there's a lot of shady and sketchy looking people around that area. However with that being said, prices there are much cheaper compared to the bars and clubs that I mentioned above. Its not uncommon to pay somewhere around 50-60k for a beer whereas a beer would cost you upwards of 150-200k at a skybar.
Conclusion
Unlike some western countries where trying to meet a girl to get a date is like pulling teeth, meeting girls here in Ho Chi Minh City is extremely easy once you know where to go.
Luckily for you, you now know some of the best places to meet girls in Ho Chi Minh City.
Let's summarize the best places to meet girls in Ho Chi Minh City again:
Online

VietnamCupid
AsianDating
Tinder

Malls

Vincom Center
Saigon Center/Takashimaya
Crescent Mall
Vincom Mega mall Thao Dien
Landmark 81

Coffee shops

Highlands Coffee
Phuc Long
The Running Bean
The Coffee House

Nguyen Hue Walking Street
Parks

23/9 Park
Vinhomes Central Park

Bars and clubs

Chill Skybar
Glow Skybar
Lush
Envy
Kasho
With these places in mind, you now never have to worry about running out of options to meet Vietnamese girls here.
This wraps up the best places to meet girls in Ho Chi Minh City.
Now go get them boys!
Where do you like to go to meet girls in Ho Chi Minh City?